Accuphase Dac-60 Module Board
$1,95000
We have run out of stock for this item.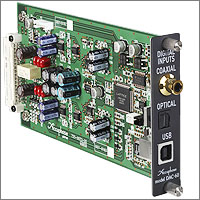 Function
An automatic change of the coax input / optical fiber /USB input
Automatic recognition of number of sampling frequency /bit /MHz de-emphasis
Guaranteed specifications
USB      :USB 2.0 High Speed (480Mbps) compliant
          :Sampling frequency DSD/2.8224MHz,5.6448MHz,11.2896MHz(1bit)
                    *11.2896MHz(ASIO only)
          :PCM/ 32kHz~384kHz,32bit
OPTICAL:JEITA CP-1212 compliant
          :Sampling frequency 32kHz~96kHz, 24bit
COAXIAL:IEC 60958/AES-3 compliant
          :Sampling frequency 32kHz~192kHz, 24bit
About sampling frequency display
when DAC-60 is installed in C-2120, E-600, E-470, E-370, or E-270

Sampling frequencies up to 192 kHz are shown as is.
Signals with the following sampling frequencies are handled without problem,
but the indication is always "192.0 kHz":
【DSD】 2.8224 MHz, 5.6448 MHz, 11.2896 MHz
【PCM】 352.8 kHz – 384 kHz

* The reproduction of music data by the USB depends on OS on the PC and softwareof music reproduction.
* Please refer to the manual of the PC for setting and the connection method of the PC about USB.
Supplied accessories
Connection
* If multiple input signals are supplied at the sametime, the unit automatically locks onto a signal when"OPTION 1" is selected, using the following priority sequence: COAXIAL → OPTICAL → USB
* To exclude a signal from being selected, either disconnect the cable or turn power of the respective equipment off.
Photo shows option board installation exampe.